Aaron's Particle Space
Aaron's Particle Space v0.20.00 Release
---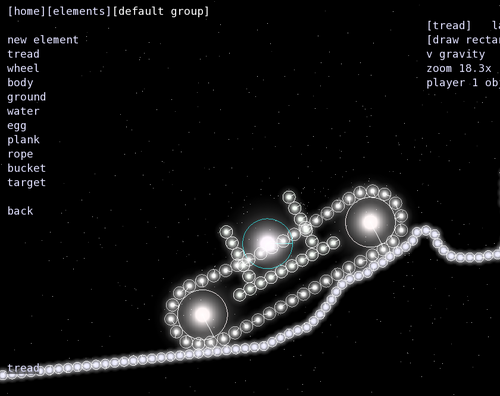 A big thank you to everyone supporting the development of APC. Your contribution is greatly appreciated and definitely helps to bring APC to its full potential. Version 0.20 has a lot of improvements, both in the physics engine and the editor. The circles within circles example is probably the most complex game created using APC so far. If you are planning to develop your own simulations or games using APC, please do offer any feedback or suggestions (good or bad).
New features:
fluid simulation based on particle pressure
PNG image particle textures
particle signalling
reaction based call-out text
pivot tool for creating hinged connections.
shrink tool for rigid bodies
select by particle type
reaction driven checkpoints (snapshot and restore)
porous rigid bodies
fast zoom
two new element shaders for play initialisation and per frame processing
sound management menu
positional audio
Enhancements:
improved particle / rigid body collision and static friction
new 'always' particle type for reactions
improved control settings for rotation, thrust and impulse movement
collide/react and apply force to particle groups
improved audio processing for thousands of particles
20 example projects:
angry_car
ascii_fireworks
bottle_flip
car_on_a_rope
chaos_test_x4
circles_within_circles
collision_test
fluid_explosion
fluid_mixer_test.
frubbles
lava_and_water
led_display
light_fantastic
newtons_cradle
psycho_lava
rigid_car_test
signal_lightning
the_big_bang
the_bucket
tractor_challenge
Under development:
4 player multiplayer with separate objectives and scoringrigid deformation via reactions
improved particle signalling
improve rigid body stability for dynamic joins / breaks
spawn particle structures
particle biology with dna blueprints
animated particle textures
icon based gui
controller support
Steam workshop / achievements
Planned:
GUI alterations:
You now use Tab/Esc to enter/exit play mode and Shift-Tab to pause/resume edit mode.
Files
ParticleSpace_020_0.exe
16 MB
Sep 16, 2017
Get Aaron's Particle Space